A global leader for the new economy
Respect drives results
As a leading alternative asset manager, GLP Capital Partners invests in areas that will define the future – with long growth horizons driven by ever-increasing demand.
In our real asset and private equity investments, we're guided by a deep respect for our work and the people we serve. By staying true to our principles – trust, character, discipline and innovation – we've been able to deliver compelling returns.
A highly scalable platform
$124B

Total assets under management (AUM)1

$113B

AUM in real assets1

$11B

AUM in private equity1

10X

Growth in AUM in just over a decade2
Thematic investment in the new economy
We invest thematically in the key sectors below, predominantly through two business strategies – real assets and private equity. We primarily operate closed-end funds and perpetual capital vehicles. 
Logistics

From early mover to a sector leader, we focus on the real assets, including logistics real estate, and intersecting technologies that form the backbone of global commerce.

Data Centers

As a formidable data center investor, we're helping the world keep pace with accelerating demand.

Renewable Energy

We understand the urgent need for energy alternatives, so we're investing in groundbreaking initiatives worldwide.
Explore Our Businesses
Responsible investing
We believe positive returns should go hand in hand with driving positive change. See how we're making a difference through responsible investment practices, Environmental, Social and Governance (ESG) initiatives and The Jeffrey H. Schwartz Foundation.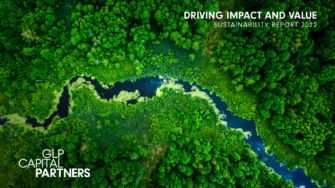 GLP CAPITAL PARTNERS ("GCP") RELEASES ANNUAL SUSTAINABILITY REPORT
"While this is GCP's inaugural sustainability report, in many ways, it is a continuation of previous sustainability reports from GLP and reflects our organization's ongoing commitment to the integration of sustainability into our business and investment practices," said Alan Yang, Chief Executive Officer of GCP.
Read more
1 As of 30 June 2023
2 Based on AUM from 2011 – 2021. The AUM figures and related statistics as referenced herein are presented on a combined basis across the advisory subsidiaries of GLP Capital Partners.