Back to all news
GCP releases annual sustainability report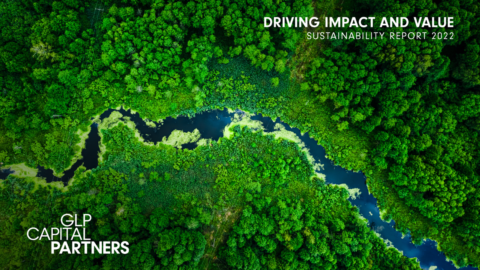 Singapore, 14 September 2023 – GLP Capital Partners ("GCP"), a leading global alternative asset manager that focuses on thematic investing across real assets and private equity, has released its inaugural sustainability report, prepared in reference to Global Reporting Initiative (GRI) Universal Standards 2021.
"While this is GCP's inaugural sustainability report, in many ways, it is a continuation of previous sustainability reports from GLP and reflects our organization's ongoing commitment to the integration of sustainability into our business and investment practices," said Alan Yang, Chief Executive Officer of GCP. "We are proud to share the progress made in 2022 including enhancing our responsible investment policy and expanding it to cover our private equity platform as well as our significant investment in data collection and reporting to measure our impact and progress. We look forward to continuing to share the development of our ESG program each year."
"Last year we refreshed our materiality assessment to consider the evolution of our business as a result of our reorganization," said Meredith Balenske, Head of Global Sustainability and ESG of GCP. "This materiality review reinforced some of the most critical topics impacting our business globally including greenhouse gas emissions, clean energy, community engagement, biodiversity and health and safety and we added new topics covered in this report."
Highlights from the 2022 report include:
700 MW renewable energy capacity in our portfolio[1]
463 green building and energy certifications achieved
18 funds participated in GRESB
Joined the UN Global Compact
Completed first climate risk assessment and scenario analysis exercise
Communicated anti-corruption policies to 100% of employees
$1.6M donated to charitable organizations or through our foundation
5,512 learning and development training session conducted covering diversity and inclusion, ethics, health and safety and cybersecurity
In 2022, GCP embarked on an exercise to identify the potential climate risks, opportunities and impact of NGFS[2] Net Zero 2050 and NGFS Current Policies scenarios on its business, providing a baseline for further analysis and disclosures. It also launched OneESG, its data management system to collect data and track ESG performance across its real estate assets and added sector specific screening toolkits for its private equity investments to enhance ESG due diligence.
The complete report is available online here. For more information on GCP's ESG and sustainability efforts, visit: https://gcp.com/responsible-investing/
[1]
Includes installed solar and wind capacity directly or indirectly controlled, managed or owned by GLP and does not include purchased renewable energy
[2]
The Network of Central Banks and Supervisors for Greening the Financial System (NGFS) partnered with an expert group of climate scientists and economists to design a set of hypothetical scenarios to demonstrate how climate change (physical risk) and climate policy and technology trends (transition risk) could evolve in different futures. https://www.ngfs.net/ngfs-scenarios-portal/