Back to all news
GLP Capital Partners closes inaugural commingled clean energy strategy with RMB 4 billion in commitments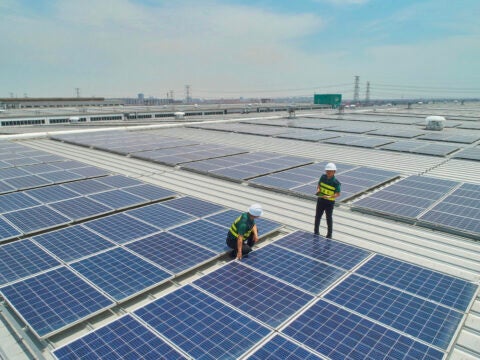 Significant dry powder to accelerate China renewable energy investment across solar, wind and energy storage infrastructure and related energy management solutions
Renewable energy is a secular trend supported by global efforts to combat climate change
Shanghai and Singapore, 8 August 2023 – GLP Capital Partners ("GCP") has established its first commingled clean energy strategy in China, raising approximately RMB 4 billion in total capital commitments from domestic institutions including National Green Development Fund and feeder funds affiliated with CHN Energy Investment Group, one of China's largest electricity providers and a prominent state-owned enterprise in the energy sector. The overall investment of the fund is expected to reach approximately RMB 20 billion.
The capital raised provides dry powder for renewable energy investments across wind, solar, energy storage infrastructure and related energy management solutions and the fund will target both greenfield projects and acquisitions in these sectors. GLP will be managing the investment, development and operations of the renewable assets through dedicated teams in China, creating economic, social and environmental value for investors, partners, customers and the broader communities.
"This is a significant fundraise for GCP and we are pleased to raise third-party capital from partners who share the same vision for strengthening renewable energy investment," said Teresa Zhuge, Executive Vice Chairman and President, China at GLP Capital Partners. "Renewable energy is one of GLP's key pillars, focusing on facilitating the energy transition across new economy sectors for a sustainable future. Given GLP's strong in-house expertise across planning, development and operations, we believe we can further accelerate market leadership in this space, to support partners and clients in pursuing their carbon neutrality goals."
To achieve its climate goals, China targets to increase the non-fossil fuel share of total energy consumption to 25% by 2030 and 80% by 2060, up from 17.3% in 2022, with the amount of energy provided by solar and wind energy expected to grow significantly over the same period.
GLP is progressing the development of a multi-gigawatt renewables portfolio in China across distributed and ground-mounted solar, wind, and battery storage solutions. It has dedicated teams who can provide turnkey solutions across the energy transition value chain including land sourcing, project and permit planning, development, operations and maintenance of renewable energy infrastructure assets. The renewable energy generated through these solar and wind projects could help power logistics/industrial and data center operations through corporate offtake agreements or be sold to the grid.
Through its private equity investment vehicles, GCP has also successfully invested in electric vehicle ("EV") infrastructure and related technologies including EV car manufacturers, battery manufacturers, charge-point operators as well as energy-as-a-service software providers etc., to build an integrated new energy value chain.
Media Contact
Faye Kwan
Tel: +65 6933 3608
Email: fwee@gcp.com