Back to all news
GLP Capital Partners Inc. ("GCP US") acquires Corona Lakeside Logistics Center in the Inland Empire West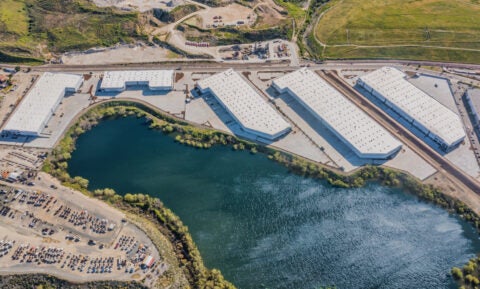 LOS ANGELES, May 1, 2023 –- GLP Capital Partners Inc. ("GCP US") today announced that it recently acquired Corona Lakeside Logistics Center in the Inland Empire West submarket of Southern California. This acquisition is in line with GCP US' broader investment strategy of acquiring best-in-class assets in industrial markets with high barriers to entry.
The five-building industrial park comprising 730,000 square feet is in a prime location at the I-15 / CA-91 interchange with convenient transportation access to the ports of Los Angeles and Long Beach, as well as population centers in Los Angeles and Orange County. The buildings feature Class A specifications, including 32-36' clear heights, excess trailer parking and significant power for customer utilization.
"The acquisition of Corona Lakeside Logistics Center gives us the opportunity to offer new, functional Class A product in a market faced with historically low vacancy rates and a lack of modern inventory," said Ross Parkin, Managing Director, Investments at GCP US.
"This acquisition represents an attractive opportunity to continue our strategy of building a portfolio of Class A industrial assets in markets with durable demand drivers and high barriers to new supply" said Adam Berns, Chief Investment Officer at GCP US.
The Corona Lakeside Logistics Center acquisition marks GCP US' second investment in the Inland Empire West in the last three months. GCP US also recently purchased a 330,000 square foot Class A warehouse, which is fully occupied. As of Q1 2023, the Inland Empire had one of the lowest vacancy rates in the US.
Both properties will be operated by GLP US Management II LLC ("GLP US"), GCP US' integrated logistics real estate operating platform that oversees a rapidly growing portfolio of logistics properties across the US.
About GLP Capital Partners Inc. ("GCP US")
GLP Capital Partners Inc ("GCP US") is a registered investment adviser that primarily focuses on uncovering advantaged opportunities in logistics, data centers, renewable energy, self-storage and related technologies. GCP US is part of GLP Capital Partners Limited ("GCP"), a leading global alternative asset manager with approximately $125 billion in total assets under management, but it is operated independently. To learn more about GCP, visit www.gcp.com.