Back to all news
Japan Income Fund grows to JPY 453 billion in capital commitments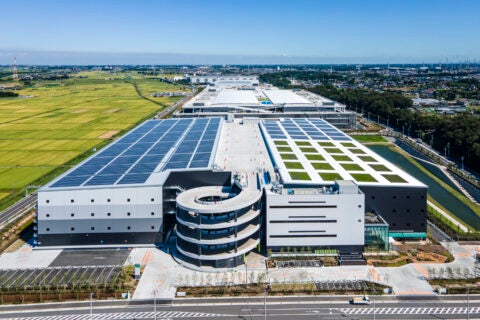 Japan's largest private open-ended logistics real estate core fund continues to attract capital from domestic and global investors
Tokyo and Singapore, 23 June 2023 – GLP Capital Partners ("GCP") today announced that Japan Income Fund ("JIF"), its flagship logistics-focused, private open-ended core strategy, has reached approximately JPY 453 billion ($3.2 billion[1]) in total capital commitments. This follows JPY 15 billion (~$106 million) of new inflows, including a sizeable commitment from a domestic real estate company.
JIF is a premier unlisted investment vehicle focusing on high quality, income-generating modern logistics properties in Japan. With over JPY 700 billion (~$5 billion) of assets under management ("AUM"), JIF is the largest of its kind in Japan and has attracted a diverse set of over 60 domestic and international investors including pension funds, sovereign wealth funds, insurance companies and other institutional asset managers.
"We are pleased to be able to continue building on our track record and are grateful to the investors who have entrusted their capital to us. One third of JIF's capital base comprises domestic investors, which is substantial in dollar terms. We believe this underscores our value proposition and established strategy, and positions us favourably to tap into a significant and expanding domestic investor market who are growing their allocations to real estate," said Ralf Wessel, Global Head of Fundraising, GLP Capital Partners.
Since its inception in 2020, JIF has focused on assembling a high quality, modern portfolio with strong property fundamentals for long term ownership. As at 31 March 2023, JIF's portfolio comprised of 22 properties with a combined gross floor area of 2.0 million square meters and 99% lease ratio. With an average age of 4.5 years and WALE of 5.2 years, the portfolio consists of prized GLP-developed assets such as GLP Misato III and GLP ALFALINK Nagareyama I, II, III and VIII.
One of the key highlights of JIF's portfolio growth is the recent acquisition of a four-storey, 100% pre-leased purpose-built facility located in Yachiyo City of Chiba Prefecture. This acquisition demonstrates JIF's ability to leverage the strong pipeline of growth opportunities being developed by GLP, as part of its medium-term goal of growing AUM to JPY 1 trillion (~$7.2 billion) by 2025.
"The Japan logistics market continues to benefit from strong occupier demand and positive secular tailwinds from e-commerce growth, increased need for third-party logistics services and a shortage of modern logistics facilities in the market," said Yoshiyuki Chosa, President, Japan of GLP Capital Partners. "The recent success of the capital raisings in both Japan Income Fund and GLP J-REIT demonstrate the support of our global capital partners for our investment activities in Japan."
Media Contact
Faye Kwan
Tel: +65 6933 3608
Email: fwee@gcp.com
Investor Contact
Craig A. Duffy
Tel: +852 9038 5284
Email: cduffy@gcp.com

About GLP Capital Partners
GLP Capital Partners ("GCP") is a leading global alternative asset manager that focuses on thematic investing across real assets and private equity. With $125 billion in total assets under management across 54 funds as of 31 March 2023, GCP has a strong history of leadership in high-growth Asian markets and a track record of success at scale in the US, Europe and Brazil. GCP is the exclusive investment and asset manager of GLP Pte Ltd. To learn more about GCP, visit www.gcp.com.
[1] Unless stated, all exchange rates are reported as 1 USD = 140 JPY